Comics & Pulp fiction are both old and new, using many similar themes during the Diesel era. Spanning from fantasy, to crime thrillers, to science fiction, the visually focused literature of the 1920s-1950s all kept similar tropes that make up the majority of the Dieselpunk genre. 
Comic books & Graphic Novels are the major source of visual Dieselpunk titles produced in present day. Whether intentional or not, Dieselpunk traits are mostly found in crime thrillers, dark urban fantasy, noir, and long running comics crossing over from "Then" to "Now".

A list of Dieselpunk Comics:
Batman
Captain Amercia
The Crow
The Darkness
Fatale
Masks
Masks and Mobsters
The Marvel "Noir" Series
Retrowood
Richard Stark's Parker
Scene of the Crime
Sin City
Pulp Fiction
Edit
 Pulp Fiction carried on the low brow thrills mostly designated towards the lower classes, becoming more common during the Great Depresstion when money was tighter than ever. Following the mass produced and quickly made penny dreadfuls, dime novels, and short fiction magazines of the 19th century; pulp fiction got its name from the cheap wood pulp paper the magazines were printed on. Titles ranged from a vast number of settings and generes and mostly involved crimes and adventure, as well as taboo elements with sexual themes and violence. Later on in the 1970s, pulp fiction was transformed into the grindhouse flicks commonly known for the same reason.
A list of Pulp Fiction genres:
Edit
adventure
detective/mystery
fantasy/sword and sorcery
gangster
horror/occult (including "weird menace")
railroad
romance
science fiction
Série Noire (French crime mystery)
"spicy/saucy" (soft porn)
sports
war
westerns (also see Dime Western)
A list of popular Pulp Fiction titles:
Edit
The Black Bat
Black Mask
The Black Spider
Dick Tracy
Doc Savage
John Carter goes to Mars
Secret Angent X
The Shadow
Tarzan
Zorro
Radio Serials & Dramas
Edit
During the time before television was common, everyone enjoyed sitting by the living room radio and hearing an entire show being played out. Shows were limited on how and what they can offer because of sound only connection and quick due dates. Genres had a much shorter range than other medias and were told in a "story book" style, with a narrator announcing the introduction and location transitions and voice actors to play the parts. Sound effects were included, on the spot, until near the 1950s when they were able to use pre recorded records, although most studios perfered the real deal to avoid added scratching and higher error risks.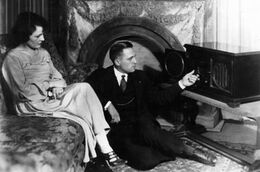 One of the most well known and still preformed radio tales is Orson Welles' broadcast of  H.G. Wells' "War of the Worlds", first preformed on the Halloween of 1938.
Erwin Blackthorn (talk) 07:46, July 4, 2014 (UTC)Erwin Blackthorn